Designed by nature! made by fishermen for fishermen!
---
Design - Performance - Quality
2 Skirts - 2 Hooks - 1 Lure
Unparalleled in performance and quality. One rigged squid skirt chasing another rigged squid skirt. Independently and separately from each other. The chase triggers an irresistible marauding instinct.
PRE-TUNED
Our design and construction ensures a perfect troll right out the bag. Our lures are hand rigged and go through strict quality checks and tests. Our color selection makes your choice easier.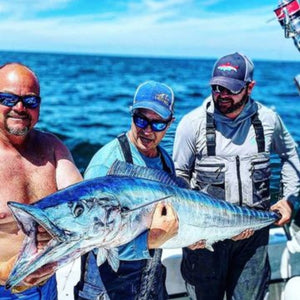 MADE FOR PERFORMANCE
JAW Lures offshore trolling lures have been individually rigged by hand and constructed with high quality materials. We only use Mustad 3407 SS-DT O'Shaughnessy hooks and AWF High-Seas leader material.
Testimonials
"One skirt chasing the other... FEEDING FRENZY! It is all about great customer experience"

Kavon Mehrani from @FloridaKeysVacationsGetaway
"Our go to lures for Mahi-Mahi and Blackfin Tuna, we almost always get 2 Tuna at a time."

Corey Cawgas @cgawlas
"My absolute favorite, brilliant performance and quality. Elicits a strike every time! Just great!"

@capt._joshbaker from @teamseashift